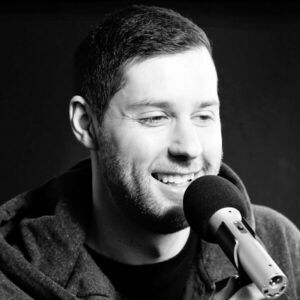 Sean Sullivan
Host of Converge Coffee
Currently helping folks with their marketing, customer experience, and revenue operations (marketing lead motion). Love bridging the gaps between human/consumer behavior and sustainable revenue structures. My expertise is using storytelling from podcasting and analytical and technical structures to help build successful growth marketing and retain customers.
My passion here is sharing guests' stories to help listeners with their marketing problems. And plus having a bit of coffee doesn't hurt anyone.
Before Converge Coffee, I did marketing for various agencies and tech companies ranging from B2BC strategies and technical implementations.
Involved in from a...
I see adding value into each of my focuses - either time or resources - rather than making another social media account to connect. People buy from people who deliver great customer experiences all around how our mindset helps to truly connect.
--
I love bringing the right people to see "the band"/ a great company. I'm passionate about seeing that company's mission come alive and making darn sure people get the best customer experience. Marketing isn't only about the tech. It's about the company's mission through the right messaging.
Starting off from 2011 to 2012, I interned with small to medium sized businesses (SMBs) to a large Fortune 100 company. I was a nomad trying to find his fit. Then I decided to jump into the pool and start my own company. See what I was made of and what marketing focuses I was interested in.
From 2012 to 2016, I built my own company. I learned many lessons from grinding at my craft and working with great clients and partners. Then in 2016, I joined Work Here as their first marketing hire. We focused our efforts on relevant geo-targeted ads around jobs and built a network of +50k app users in less than 9 months.
Since then, I started an international podcast reaching the top 1% of all downloaded podcasts. Then I found my position at a national eCommerce startup. I was the first marketing hire and have helped the company grow 3.5x in net revenue and over 20 return on ad spend (ROAS) within the first year. Paid media and podcasting have been challenging but rewarding experiences. And I've learned a lot which drives me to be a better storytelling marketer by striving to be the best in growth marketing, analytics, and sustainable revenue structures.
At the end of 2021, I started with a wonderful people first, brand and customer experience agency - McGarrah Jessee. I am part of their media analytics team to help their clients track and understand behaviors via website, mobile apps, eCommerce, and ATS Systems. This opportunity will combine my knack for delivering great marketing and customer experiences at scale. I will also be able to flex my revenue operations knowledge to support building more sustainable revenue companies.
The odd thing is I love marketing but more so around the psychology of why people buy. I consider marketing is my passion to help connect people with great products/services through developing great customer experiences. I am an active learner of revenue operations and building data infrastructures to sustainable revenue models. Along the way, I've interviewed excellent guests talking about their experiences. And I'm always on the look out for great guests.
Sean Sullivan has hosted 116 Episodes.