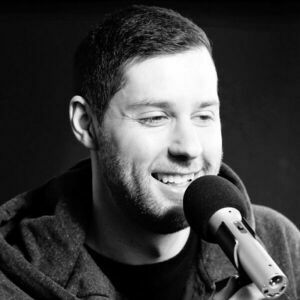 Sean Sullivan
Co-Host of Converge Coffee
Currently helping companies with their demand generation and revenue operations specfically in go to market (GTM) and data strategy for their whole revenue engine. I love bridging the gaps between human behavior and sustainable revenue structures. My expertise is using podcasting to build aligned enablement across the whole company and educate on customer experience (CX). My ultimate goal is to pair great CX with RevOps.
My passion here is sharing guests' stories to help listeners with their marketing and customer experience problems. And plus having a bit of coffee doesn't hurt anyone.
Before Converge Coffee, I did growth marketing and revops for various agencies and tech companies ranging from B2BC strategies and technical implementations.
Involved in from a...
Mindset focus - Dreamfuel
Career focus - Pavilion & Grow Blocks
Community focus - Lilly Scholars Network and Indiana Donor Network
Been a Podcast Guest on:
Next Pivot Point - The Personal Side of Being An Ally
Podscribe - Converge Coffee Using Podscribe
SquadCast - Myth Busting: How to Start a Podcast
Uncensored Advice For Men - Gaining CTRL with Sean Sullivan
I see adding value into each of my focuses - either time or resources - rather than making another social media account to connect. People buy from people who deliver great customer experiences all around how our mindset helps to truly connect.
I'm looking for fractional roles in growth marketing and revenue operations particularly focused on...
End to end data alignment in the entire bowtie model
GTM facilitation to help marketing teams focus on strategy and execution
Create media engines to scale enablement and create demand for the whole company
Along the way, I've interviewed excellent guests talking about their experiences. And I'm always on the look out for great guests.
Sean Sullivan has hosted 146 Episodes.
October 16th, 2017 | Season 1 | 39 mins 23 secs

affiliate marketing, growth hacking, jack paxton, marketing tech, marketing technology, martech, viral marketing

In this episode, Sean sits down with Jack Paxton, co-founder of Vyper, and talk about why marketers need a growth hacking strategy before they select a product. Paxton explains how he growth hacked building Vyper and why he listens to his customers to make Vyper a better product for viral growth hacking.

October 9th, 2017 | Season 1 | 26 mins 29 secs

content marketing, erik deckers, messaging, writing

In this episode, Sean sits down with Erik Deckers, president of Pro Blog Service, and talk about why content marketers lie about saying they're storytellers. The 7 How Tos and 5 Ways isn't telling a story. Deckers gives 4 key takeaways on what are the most important fiction writing techniques to bring back to content marketing.